Archive for September, 2018
http://www.courant.com/news/connecticut/hc-melissa-millan-murder-leverett-warrant-20180924-story.html#
It figures.
Management needs to "root out fraud and boot out" employees engaged in misconduct.
https://en.wikipedia.org/wiki/Anthropomorphism
https://en.wikipedia.org/wiki/Displacement_(psychology)
Then there is the link that popped-up on the Detroit News – the guy in Arizona who it is said faked Downs Syndrome as fraud (and a sexual escapade).  The issue there is the fraud and where that comes from in a criminal sense.
"notice of claim forms,"
Margery Wakefield, in her book Understanding Scientology, claimed that the extremely repetitive questioning done during drills in Scientology auditing was a form of hypnosis. She claimed that these drills are sometimes done for several hours at a time, "until the preclear can do it without delay, without protest, without apathy, but with cheerfulness." [5]
In 1984, a Tax Court concluded that the church had "made a business out of selling religion," and that Mr. Hubbard and his family had diverted millions of dollars of church funds. And a Los Angeles Superior Court judge called Mr. Hubbard "a pathological liar" who seemed gripped by "egotism, greed, avarice, lust for power and vindictiveness and aggressiveness against persons perceived by him to be disloyal or hostile."
L. Ron Hubbard was a terrible person.  One of his children killed himself and another changed his name to distance himself; he disowned other kids.  His wife went to prison because of him.  He beat, philandered-on, stole money from, and created great anxiety for his wives.
Eventually he became a complete dictator and punisher of others.  Plus, he was convicted or unwelcome in various countries.
https://www.goodreads.com/book/show/962611.Bare_Faced_Messiah
Damn, that's a boring review, that top one.  It is also a bit boisterous — you could even say narcissistic.
It is not the beginning as that was in Nebraska.  He was raised in Helena, Montana and then attended The George Washington University in Washington, D.C.
The whole book is right here:  http://www.spaink.net/cos/rmiller/index.html.
I skipped to the end, or rather the parts I was most interested in, and ended-up reading about the last third.  It is a very good book and a rare talent.  It is accurate and fun to read.
On the accuracy front, it survived.  A key ingredient was the "stolen" documents by someone in the closest circles.  The court cases never really made an effort to get them back, but they were sealed for a while; the book was never published in the U.S.  Europeans took a harsher view of Scientology (e.g., arrests in France and Spain)  and courts and sentiment seemed to be less allowing in the U.K. too.
In terms of Keith Raniere and NXIVM, it is almost a rehash.  It is a clear blueprint and Raniere was far less successful at it.
Again, the book is excellent and I need to read the first half before I comment too much.
For now I can say I find L. Ron Hubbard odious.  In later life he was a lonely, fat, lazy man who spent money and ordered people around.
But the beginning, you have to start at the beginning…  In terms of his power and wealth, the e-meter and auditing is risky to the point of fraud.
***
Bare-Faced Messiah by Russell Miller is not a great book.  The beginning is disappointing.  Before the internet age the author seems to be an armchair researcher only.  It seems as though he never visited anywhere (e.g., Helena, Montana where Hubbard grew up) or spoke with anyone such as childhood friends, relatives, teachers, etc.  The nonfiction work provides almost no insight into his development and personality.  Also, it is completely lacking in expert input on where and how his extreme narcissism comes from.  The book lacks any depth in terms of these issues.
One example is, I was looking forward to insight on Hubbard's marriage to Sara (Polly) Northrup, tall, blonde, young USC student.  He fell for her hard and stole her from a friend while swindling him out of money too.  It seems he was infatuated with her to the point of acting crazy, such as kidnapping their daughter and threatening suicide if she left him.  The book provides little input on the relationship beyond obvious and public news.
One further thing I would like to add about the Scientologists:  It is interesting how they use their rights as consumers, en masse, to help achieve their goals.  In the church's fight against the IRS individual lawsuits about tax deductions were extremely effective.  Church members submitted some 2,400 of them and to a degree the government had no solution for them.  That appeared to help significantly with the organization's success in achieving tax-exempt status in the U.S.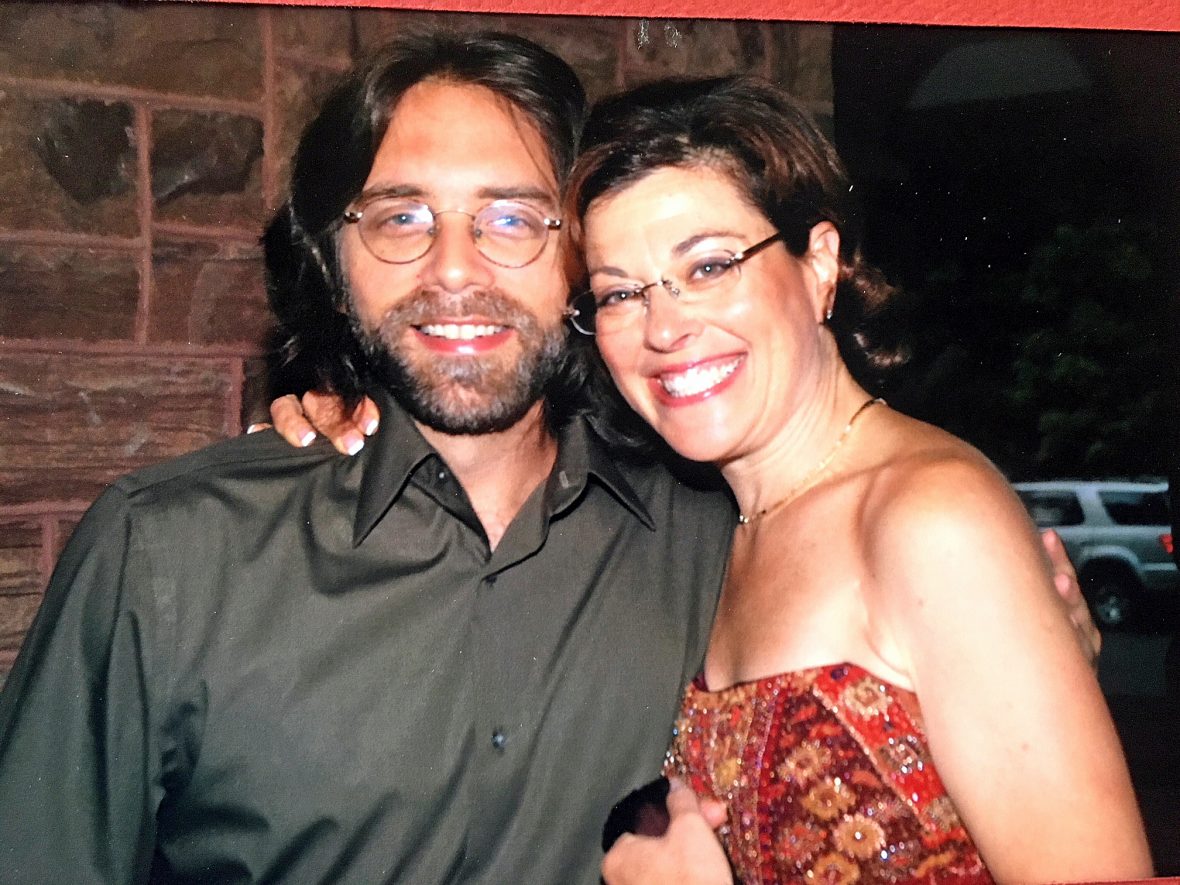 This is a pic I had not seen before, courtesy of Barbara Bouchey and CBC.  It'll be fun to listen to one of the podcasts.  There is some new information there.
One tidbit is the idea of a traumatizing narcissist.  The concept is real, but it seems to be championed only by the one psychologist Daniel Shaw.  In terms of Raniere Shaw says "His behaviour (sic) seems driven by an insatiable need to constantly prove his own superiority."
That is the thing about NXIVM and Keith Raniere:  It is all about him.  He leaves his victims, i.e., the people he comes into contact with, traumatized.
Among them Ms. Bouchey is still the star.  Her appearance on 20/20 helped bring that episode to life.  Frank Parlato is still at it too and he mentioned that she would be on the Today show.  Then he followed-up with more–he seems to spend a lot more time with guests and commenters than he used to–from a poster who describes Bouchey as still conflicted.  She is conflicted (or traumatized) and that is why she is so interesting.  On the one-hand she comes off as proud that she was his girlfriend, that she chauffeured him around, and people moved over on the couch to make room for him.  Elsewhere we've seen her crying and lamenting the lost $1.2 million and her personal bankruptcies.
Mr. Parlato still spends a ton of time studying the whole thing; in particular, he will dissect every court appearance and legal filing ad nauseam.  Of course he is still fighting his own indictment.  He insists it is bogus, but it will not go away.
The CBC series points out that when Raniere found out about his intelligence gifts at the age of about eight he changed into a real egotist and people-abuser.  As a teen he lived with his divorced, alcoholic mother who died when he was 17.  That's when he started attending college, racking up debt, and pursuing his goal to change the world.
Later on, after the dramatic collapse of Consumers' Buyline, he met Nancy Salzman and that cemented his final vision.  Bouchey says he was into Scientology and we all know Salzman was the critical neurolinguistic programming link.  It is not a pretty picture, these people who are 60 years old, don't have a dime to their name, and the rest of their lives are only about staying out of prison.  (Paul Manafort, age 69, is another.)  Anyway, Ms. Salzman–her daughter indicted too–is now ill or recuperating.  It is not a pretty picture at all.
https://www.justice.gov/usao-mdpa/pr/postal-employee-charged-obstruction-mail
Whoever knowingly and willfully obstructs or retards the passage of the mail, or any carrier or conveyance carrying the mail, shall be fined under this title or imprisoned not more than six months, or both.
(a)
Whoever, being a
Postal Service
officer or employee, unlawfully secretes, destroys, detains, delays, or opens any letter, postal card, package, bag, or mail entrusted to him or which shall come into his possession, and which was intended to be conveyed by mail, or carried or delivered by any carrier or other employee of the
Postal Service
, or forwarded through or delivered from any post office or station thereof established by authority of the Postmaster General or the
Postal Service
, shall be fined under this title or imprisoned not more than five years, or both.
18 U.S. Code § 1703 – Delay or destruction of mail or newspapers
https://www.washingtonpost.com/politics/manaforts-guilty-plea-exposes-hardball-tactics-he-used-to-thrive-in-washington-swamp/2018/09/14/6113fb4c-b82d-11e8-a2c5-3187f427e253_story.html?utm_term=.87bbd2511a81
President Trump has done a lot of creepy things but this, to me, is the creepiest.  Yanukovych is a very bad guy.
Today I am going to write about qualified immunity.  A lot of people think they deserve qualified immunity.
I will write about it another time.
I need to do a better job of writing about narcissism.  My message didn't work.
The DAX was doing well before Trump stepped-in.
It is absolutely fascinating how a more inclusive system works.  But the protests have been in the news again.  There's going to be a global downturn and it could get worse.  Those who are more responsible (i.e., countries and people without huge debt) will obviously be in better shape, and the Germans are usually frugal and responsible.